Save the date: EAEA annual events in Helsinki, 11-12 June 2024; EAEA podcast and new online course now availlable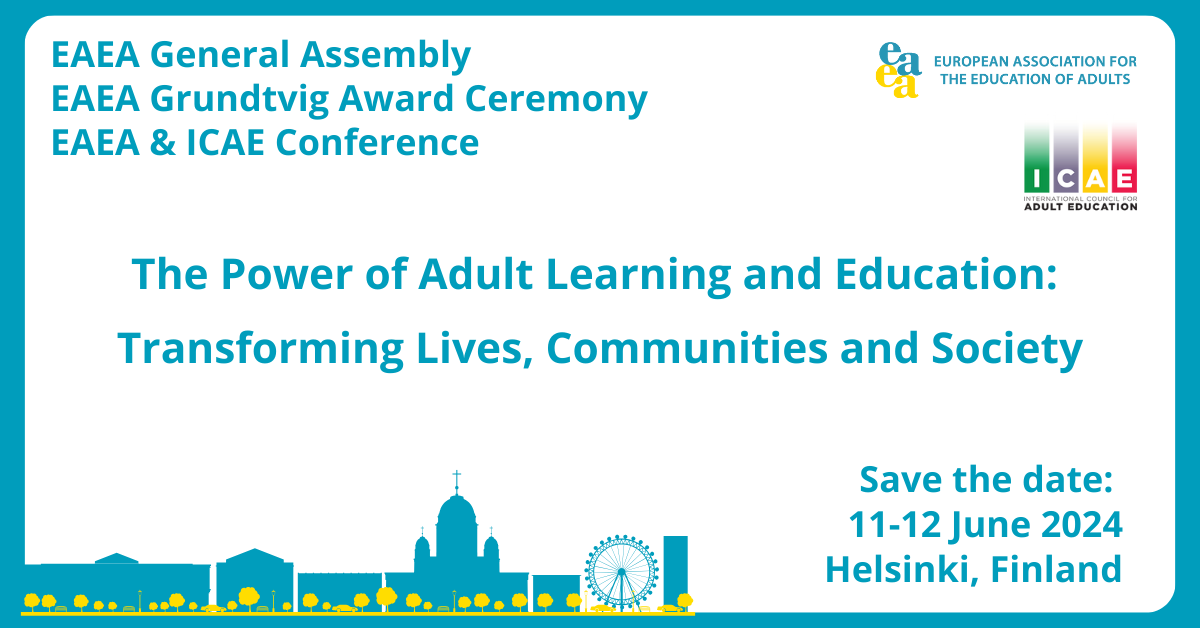 Dear Colleagues in Adult and Lifelong Learning,
I hope you're doing well!
We're happy to announce that the next General Assembly, Grundtvig Award Ceremony and Annual Conference will take place on 11-12 June 2024. Please save the date and join us in Helsinki, Finland, to discuss the Power of Adult Learning and Education: Transforming Lives, Communities and Society.
The events will be hosted by our Finnish member KVS, the Finnish Lifelong Learning Foundation, and organised in collaboration with ICAE, the International Council for Adult Education. We hope to see you there!
In other news, we'd like to share with you our first podcast Beyond Learning, in which we explore stories of learning, and stories of change. On Beyond Learning, we talk to people trying to imagine a more sustainable world and putting their ideas into practice. We meet with adult learners, educators and community organisers from around Europe to visit urban gardens, participate in festivals, and witness art projects in the making. We ask them why learning should be at the heart of a greener future, and how it has already shaped their lives and communities.
In the first episode, we take a tour around a wooden settlement in the centre of Warsaw with a unique history. In the second episode, we meet with a Brussels-based illustrator as she's preparing for her next art project to talk about how she learned to draw as an adult. New episodes are published every other Thursday.
Find out more from the podcast page on our website: https://eaea.org/our-work/capacity-building/beyond-learning/
You can follow us on Spotify: https://open.spotify.com/show/25vu6eG1f50J4BitBSLJTD
And on Apple Podcasts: https://podcasts.apple.com/us/podcast/beyond-learning/id1709304077
Finally, you're also welcome to have a look at our new online course which provides an Introduction to Adult learning in Europe. The modules, published every three weeks, will cover the concept of adult learning, examples of how it's practiced across the continent, and adult learning methods and approaches. The first module is now available and you can enrol in the course on our e-learning platform learning.eaea.org. Many thanks to those of you who contributed with videos following our call last summer!
Don't forget that the registrations to our training on project design in adult learning are now open!