A CR&DALL honlap válogatása:
https://us7.campaign-archive.com/?e=71570b58f7&u=6006287ada4a4e8ac881f6843&id=66d3803d50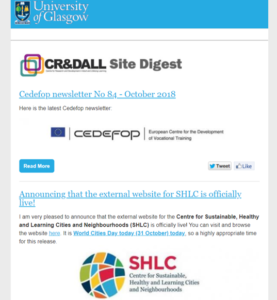 A PASCAL honlap válogatása:
https://us2.campaign-archive.com/?e=9f46982f08&u=ea43bac87ac57ae423e8456e7&id=ac475bb97d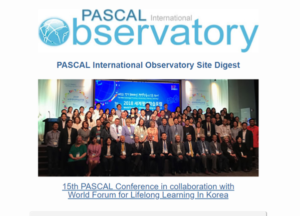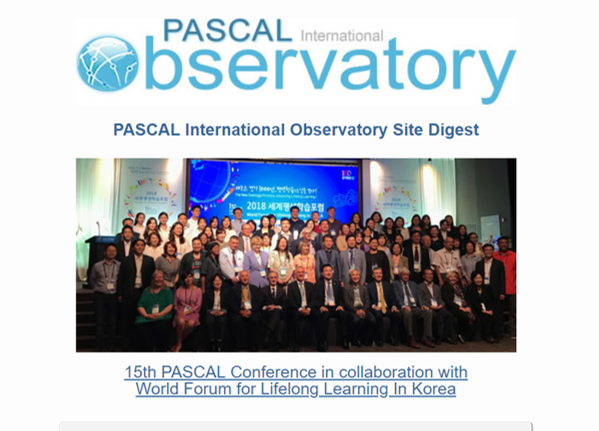 A PASCAL Int. Observatory honlap válogatása:
https://us2.campaign-archive.com/?e=9f46982f08&u=ea43bac87ac57ae423e8456e7&id=ca83f028ba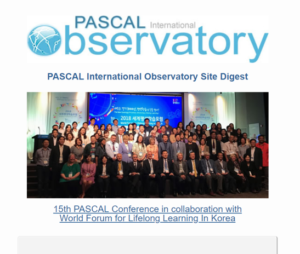 Learning Cities nd Culture Working Together
International Conference in Association with UNESCO's Global Network of Learning Cities
Experts and practitioners from 9 countries researching and developing learning cities gathered to discuss global and local trends around learning cities with three specific focuses on culture and heritage, on smart city-dimension, and on intercultural learning.
The Conferenc was held in the City of Pécs, as one of the UNESCO's 2017 Awarded Global Learning Cities, in association with UIL, the Lifelong Learning Research Centre of the University of Pécs, MELLearN-Hungarian Universities LLL Network and the House of Civic Conmunities.
Further information and presentations can be accessed at: http://ptf18.ckh.hu/conference-call

Ezúton tisztelettel értesítjük, hogy a 14. MELLearN Konferencia előadásaihoz kapcsolódó tanulmánykötet 2018. november közepén fog megjelenni!
A Learning and Work aktuális hírlevele:
eucen Steering Committee/Végrehajtó Bizottság ülése – Barcelona 2018. 10. 15.
Helyszín: Universidad Pompeiu Fabra, 123 Balmes
Az Európai Egyetemek Lifelong Learning Hálózata/eucen 2018. október 15én tartotta végrehajtó bizottsági ülését, amelynek keretében a Bizottság tagjai áttekintették a Hálózat előtt álló legfontosabb feladatokat és eseményeket.
Egyebek mellett a Bizottság tagjai érintették az ún. eucen Autumn Seminar 2018 programjának helyzetét, mely 2018. november 15-16-én kerül megrendezésre Barcelonában. A rendezvényre még fogadnak jelentkezéseket!
Részletek itt: http://eucen.eu
Naprendre került a 2019. március végére/április elejére tervezett brüsszeli euen Policy Talks2019előkészítése, melyhez a magyar bizottsági tag készített téma-tervezetet.
Végül a Végrehajtó Bizottság részletesen áttekintette a 2019. június elejére Aveiro-ba meghirdetett 51. eucrn konferencia előkészületeit, melynek az alábbi téma kerül a fókuszába: University Continuing Education – Learning for a Better Living
Részletek itt érhetőek el: www.ua.pt/uinfoc/eucen2019